Let's win $100,000!
Nominate our CEO Lauren McKeaney for the 2021 G2 Overachievers Grant
DEADLINE: Jan 15
As you've heard, G2 Pilot Pen is awarding a $100,000 grant to one exceptional individual who goes beyond their everyday jobs and responsibilities to give back to their community and improve the lives of others. We need your help to nominate our founder Lauren McKeaney to secure much-needed funds for the Dermatillomania community through a handwritten letter! Below is some info, tips, and answers to the questions they ask, if you'd like to include some mentions in your letter. Many thanks for helping us win a grant!
Check out an amazing submission from community member Erin Long below!
✨ WHAT TO INCLUDE IN YOUR HANDWRITTEN SUBMISSION ✨
Participants must describe in a minimum of 1,000 to a maximum of 2,500 handwritten words why Participant  believes the Nominee to be an Overachiever (the "Nomination Story" or, in plural, the "Nomination Stories").
 The Nomination Story must address each of the following questions:
- Who are you nominating? Please provide in your nomination the Nominee's contact information, current employment status and employer's contact information.
- Why do you believe the Nominee to be an Overachiever, meaning one who has overcome challenges to achieve extraordinary success beyond their typical workday obligations?
- How has the Nominee improved the lives of others?
- What is the Nominee's overall goal?
- What is the biggest challenge currently facing the Nominee?
- How would the $100,000 Grand Prize Grant help the Nominee to achieve his or her goal?
Participants do not need to answer the questions in order or repeat each question prior to responding.  Contest Entities, in their sole discretion, reserve the right to disqualify any nomination if the Nomination story does not respond to all five questions.
✨ INFO YOU'LL NEED WHEN NOMINATING LAUREN ✨
NAME: Lauren McKeaney
ADDRESS: 833 n Clark street, #2712, Chicago, IL, 60610
AGE: 35
PHONE: 312-282-6610
EMAIL: lauren@pickingme.org
EMPLOYMENT STATUS: Founder of Picking Me Foundation and Lodge Management Group Entertainment Enterprises 
EMPLOYER ADDRESS: 770 N LaSalle Dr #410, Chicago, IL 60654, 312-964-5388. And LMG is 18 W ONTARIO ST, CHICAGO, IL, 60654-5317, United States
✨ SUBMISSION TIPS ✨
They judge based on this criteria:
-Specific action that improved other's lives
-Measurable difference, based on the magnitude of people impacted
-Attained a measurable difference
-Resourced (by the individual); the nominee should have played a major role in starting the initiative that made the change
-Time – the overachievement must have taken place in the last twenty-four (24) months
✨ SOME STATS AND FACTS YOU CAN MENTION ✨
-Sent Derma Resource Packets to over 2,500 Dermatologists
-Raised $1,200 for Skin Picking Awareness in Gambia
-Sent 3,800 Fiddle Packs out, donating one half of them
-Started a support group for Skin Picking in Chicago in 2017
-Started the first Dermatillomania Support Group online in 2019
-Over 800 Support Group members hosted online
-Email list of over 7,000 that grew especially during Covid
-Grew the Skin Picking Community on social media from non existent to over 15,000 followers on Instagram, FB, and Twitter
-Recent Magazine/press mentions on Women's Health, Vogue, Style Beauty, and Brut media
-Influencer collabs educating beauty & wellness brands about derma with amazing companies Topicals, Starface, and Calm Strips
-Host comedy shows, writing workshops, poetry slams, all in the name of skin picking disorder
-Skincare, health care, mental health, workforce, education conferences
-Over 300 Fidgets tested, written about, and showcased in our #FidgetFinds on social media
-More than 20 resources full of management tips created to manage skin picking disorder
-We have curated over 250 pieces of art depicting skin picking disorder and showcase the4m in our online art gallery to connect people further as sometimes it's hard to talk about it, so let's draw about it. Drawing with Derma
-Lauren McKeaney started these initiatives, after suffering with skin picking for 27 years
-We receive countless emails, dms, social media comments, phone calls, and snail personally thanking us for the awareness, support, resources and community we have created for Dermatillomania, from all ages, genders, and walks of life worldwide
Our work has changed lives. How has it impacted yours?
- Lauren splits her time working on marketing for pubs and clubs in Chicago as well as running her nonprofit. She takes no salary from her nonprofit. She works nonstop, cares about this community more than anything, and has devoted her life to connecting people and making sure they know they matter. 
- Lauren's overall goal is to serve the underreported and misunderstood Dermatillomania community. She wants sufferers to know they are not alone. To choose themselves over the mental illness that chose them, by #PickingMe over Skin Picking. Aim for progress over perfection. And to be the home, the foundation, she had always been looking for
- Lauren's biggest challenge is time. She wishes she had more of it. Or more people on her team to execute the demand for this community. 
- She needs guidance in the nonprofit world, as one of few new nonprofits and the only dedicated to skin picking disorder worldwide
- She needs awareness spread so sufferers know they are not alone as 1 out of 20 people suffer with skin picking disorder but hardly anyone knows its an actual mental illness
- She wants to speak for more people, connecting them and helping them learn ways to overcome this difficult disorder
Lauren would use the $100,000 gratefully, as the largest ever donation in honor of Dermatillomania
- She would create, produce, and ship 2,000 Derma Resource Packets nationwide to Dermatologists
- She would donate 1,000 Fiddle Packs to Derma sufferers
- She would improve resources she offers her support group
- She would produce a a short video depicting the work of the foundation to further help others
✨ OPTION FOR WRITING YOUR HANDWRITTEN LETTER ✨
Part 1 - who you are nominating and why
Part 2 - a bit about them / how you know Her
Part 3 - reason 1 why She's an overachiever, how has she helped the community
Part 4 - reason 2 why She's an overachiever, how has she helped you
Part 5 - reason 3 why She's an overachiever, why does her help matter
Part 6 - anything else about how she and Picking Me have helped
Part 7 - conclusion
Click here to fill out your nomination
Please remember:
***ALL NOMINATION STORIES MUST BE HANDWRITTEN***
Nomination Stories that are not handwritten by Participant or Participant's authorized representative will be void and the nomination will be disqualified from the Contest. Individuals with disabilities rendering them unable to handwrite a Nomination Story should contact the Contest via email at G2Grant@PilotPen.com in  order to request accommodation. Contest Entities may require proof of disability and Participant must  receive written permission prior to submitting a non-handwritten Nomination Story. Tap here for a PDF of G2 Pilot's rules.
Thank you so much! Please email meredith@pickingme.org with any questions and be sure to send us your uploaded pics of your letters too! We'd love to see them <3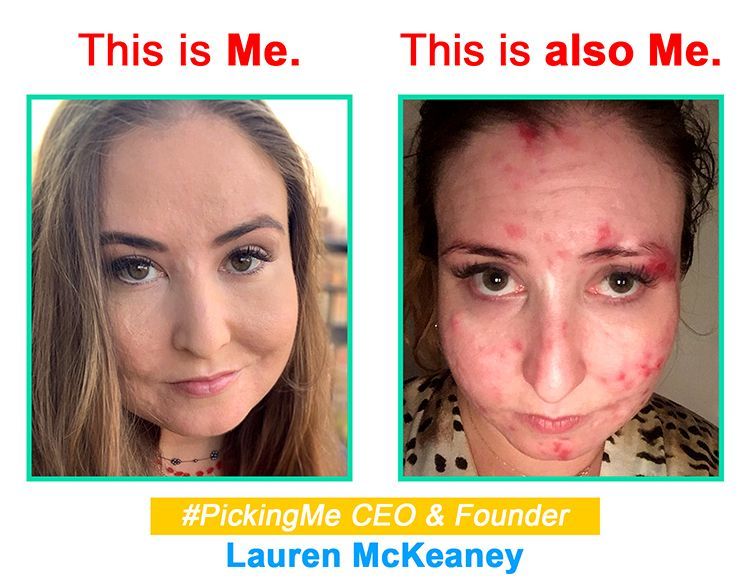 About our Founder
Like you, mental health advocate and nonprofit CEO Lauren McKeaney has heard self-acceptance defined in many ways. Is it an awareness of your strengths and weaknesses? Not judging yourself? A happy attitude? Saying "I am what I am" aloud? Or could it be life-saving?
After almost losing her leg to the newly recognized mental illness Dermatillomania aka Excoriation (Skin Picking) Disorder in 2014, Lauren set out to transform her and other sufferers' anguish over this misunderstood, stigmatized in the already stigmatized mental health community disorder, into tangible, life-changing answers and actions. In 2016 Lauren founded the only nonprofit worldwide focused on Skin Picking Disorder, the Picking Me Foundation NFP, which funds a myriad of initiatives that provide awareness, support, and advocacy for sufferers, supporters, and educational communities alike encouraging individuals to choose themselves over the mental illness that chose them.
With over 27 years of personal, real life experience with Dermatillomania and an authentic, conversational, and quirky manner that connects and inspires her audience, Lauren offers an intimate and unique understanding of the illness, which she has been invited to share at numerous presentations, panel discussions, and exhibitions nationwide. Lauren appreciates, and shares with listeners, that practice makes progress not perfect, that self-love isn't selfish, it's self-care, and how #PickingMe over Skin Picking is the ultimate freedom.