You're invited

to #PickingMe's Zoom Birthday Party!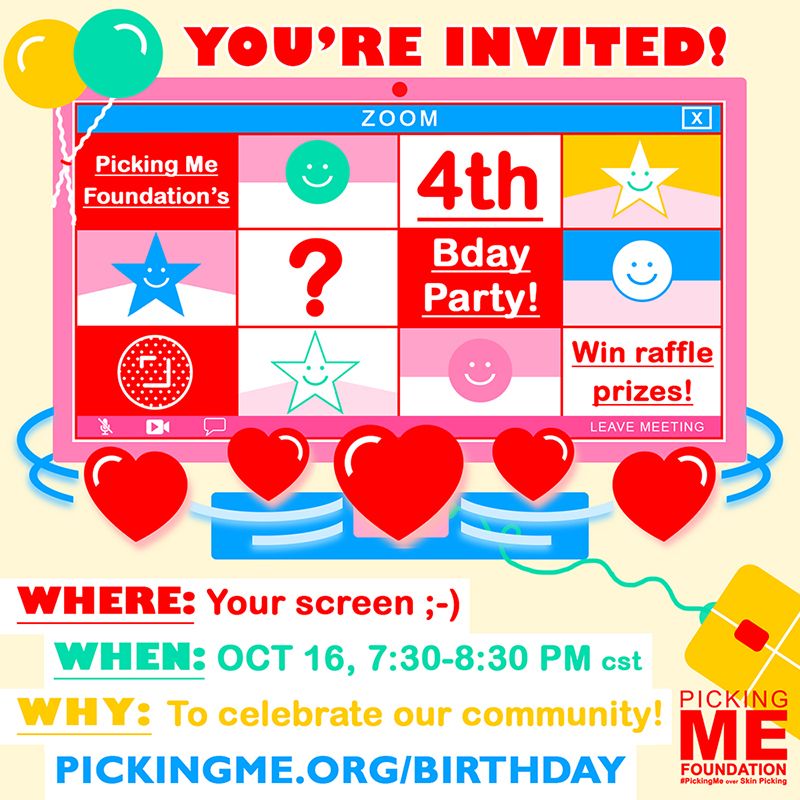 WHAT:
#PickingMe's 4th Birthday Party!

WHERE:
Your screen on Zoom ;-)

WHEN:
OCT 16, 7:30-8:30 PM (cst)

WHY:
To celebrate our community!
Join us as we celebrate 4 whole years of awareness, support and community!
Since starting #PickingMe in 2016, we never dreamed of how much we'd grow and how many amazing people we'd meet in our mission for Skin Picking Disorder advocacy. Our birthday isn't just a marker of our nonprofit's age, but a reflection of all the awesome Skin Picking and BFRB strugglers and supporters who make up our #PickingMe community. It's because of YOU Picking Me Foundation is turning 4 and we can't thank you enough. 

Because this year is a lil' different, we'll be hosting a virtual party and raffle! Come celebrate and support the Skin Picking community in our Zoom Room, win incredible BFRB raffle prizes, chat with Lauren and fellow #PickingMe fam members, receive a special coupon from us, and more!


Our community has exploded this year with the pandemic increasing skin picking triggers and bringing more people than ever to us. Our need for services has exponentially grown while our donations have seriously stalled.
And we truly need YOU to continue what we do!
To take part in our Zoom community celebration just purchase a ticket. 
Check out our special discounts on buying multiple raffle tix
and a list of raffle items below!
Once you purchase your option, you will get two emails:
The ticket order confirmation with bday Zoom link and a message with your raffle number(s) shortly after.
*PLEASE NOTE: RAFFLE ITEMS CAN ONLY BE SHIPPED TO US AND CANADA
RAFFLE ENTRY CLOSES AT 4PM CST, BUT YOU CAN STILL PURCHASE ZOOM TICKET AFTER!
Please email meredith@pickingme.org for any payment issues!

Unable to attend?
Celebrate by giving a donation: