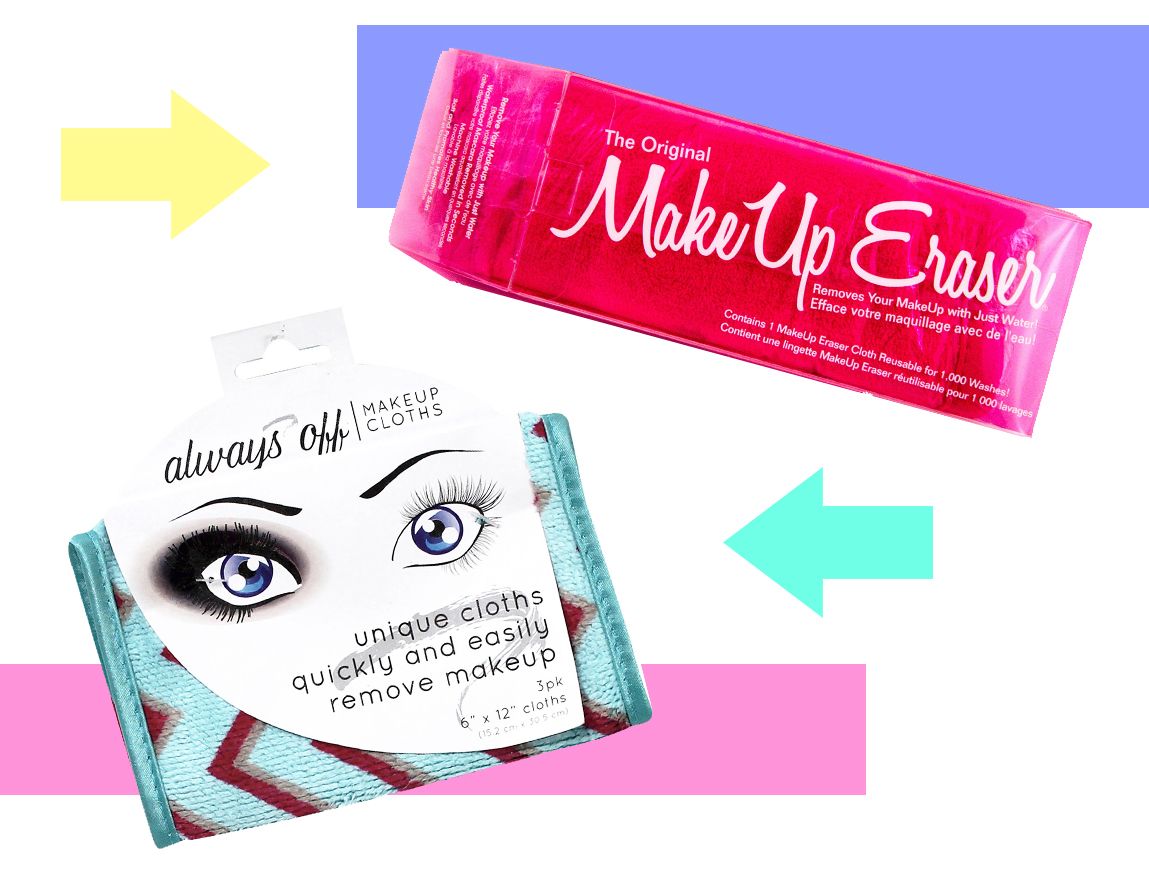 I've been known to experiment with fun makeup looks, often involving smudging red lip liner under my eyes, clumping my lashes with mascara and using eyeliner to to create clown accents. The amount of time it takes to wash all the gunk off my face can take quite a while. And although I don't pick areas on my face, I can only imagine the triggering effect of staring in a mirror, scrutinizing your face to make sure all the makeup is off.
When you wash with regular face wash, your hands are already touching your skin, making it easy to begin a picking session. At Picking Me, we discuss ways to eliminate that triggering hand-to-skin contact, as well as the amount of time spent in the bathroom. Makeup cloths are a great alternative to face wash; they quickly clean your face, there's no direct hand-to-face contact and they're reusable! I tested out two different makeup cloth brands to give you a closer look on how well they work and how they can help combat picking triggers:
The Original Makeup Remover
I was just as shocked as any new makeup cloth user when I initially tried this product. The instructions are simple: just run under warm water and wipe in a circular motion along your face. It immediately got rid of all my makeup! And the cloth felt so nice against my skin and fingers. Instead of feeling any perceived bumps or imperfections on your skin that may trigger picking thoughts, you just feel the soft, calming sensation of the material. The process of removing my makeup and the time spent in front of a mirror also drastically declined. I was excited that I might've finally found a product that could remove my makeup quickly and easily.
Unfortunately, after a week of continuous use, I began to notice familiar signs of Contact Dermatitis. My face began to develop small rashes and felt insanely dry. Because of this, I had to stop using the makeup remover and switch back to face wash. If you're considering trying The Original Make Up Remover, air on the side of caution if you have more sensitive skin or are prone to get Contact Dermatitis. It might set off new picking triggers and end up doing more harm than good. But that's not to say that this product doesn't have t's benefits! I definitely recommend trying it out if you're looking for makeup removers that eliminate hand-to-skin contact. Although it ended up not being the right fit for me, it might work well for you!
$20 / Buy on Amazon Smile and choose Picking Me Foundation NFP
Always Off Makeup Cloths
These cloths are very similar to The Original Makeup Remover, although admittedly, not as soft. If you're looking to get more bang for your buck, I suggest trying out these. You get three in a pack, as opposed to just one in The Original. And they're notably cheaper! They remove makeup just as easily and cut your time in the bathroom significantly.
Because of my last experience with these cloths, I don't use them everyday, but more so when I need to quickly clean my face or am just feeling lazy. The directions for these cloths are a little different, as they suggest applying just water, a face wash or soap to the cloth. I tested out the cloth with face wash. I was hoping the cloth would get sudsy from the wash and leave my face feeling more clean. The cloth didn't take to the wash very well and my face didn't feel that refreshed after using it. It did get rid of my makeup quite well and that was ultimately the goal!
$3 / Buy on Amazon Smile and choose Picking Me Foundation NFP
My experience with makeup remover cloths have been mixed, but I can't deny the convenience and quickness they provide. They allow for less time to focus on perceived imperfections and are a great barrier between your fingers and face. If washing your face has become a picking trigger, I suggest at least trying out one of these wipes to see if they can become one of your skin care strategies.