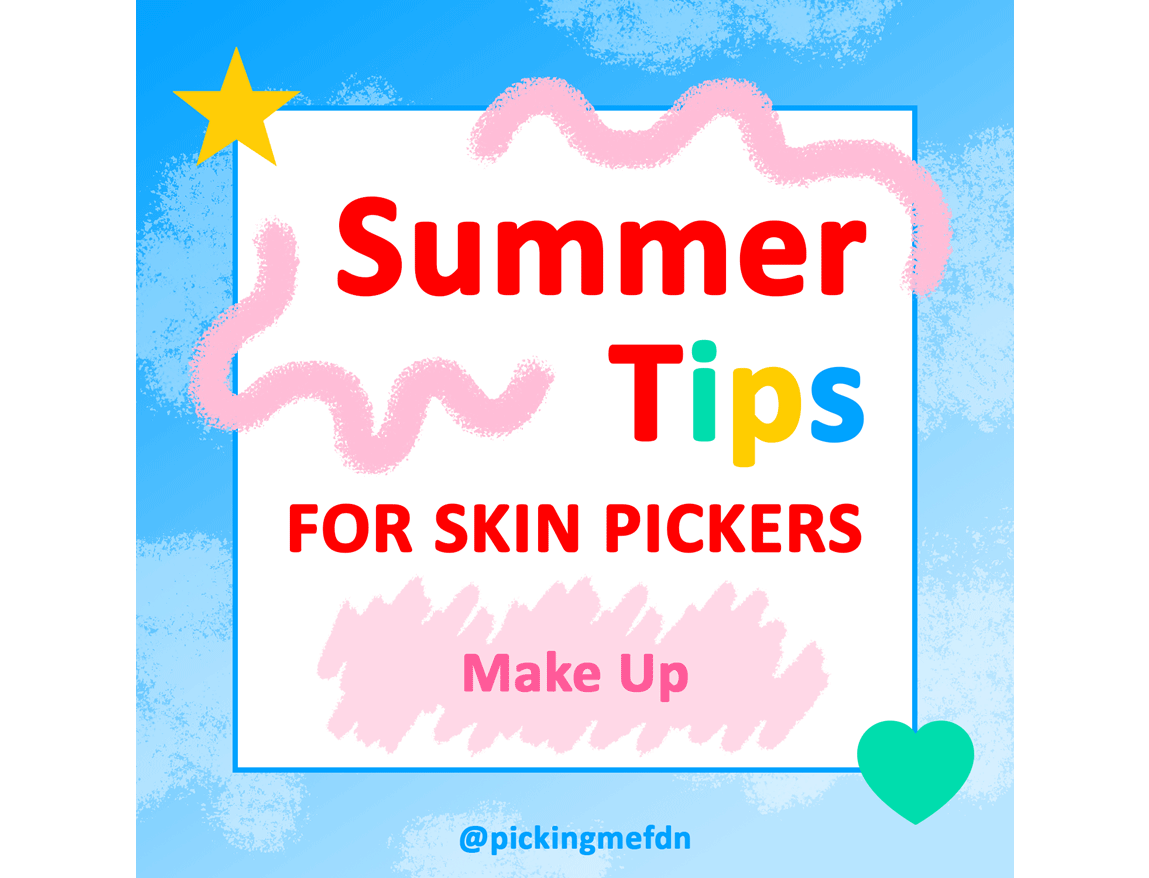 Wearing makeup in the heat can be a bit of a challenge, and when you add in having Dermatillomania, it can be even tougher! Check out our list of tips and let us know what you think!
Application
Products with SPF
When applying makeup like primer and foundation, opt for brands with added SPF. Colore Science sells an easy to use (but pricey) brush-on powder with SPF in their Sunforgettable line.
Lip Protection
Choose nourishing lipsticks with Vitamin E to help soften and soothe triggering, dry lips.
Setting/Finishing
Use a setting spray with SPF after applying makeup to help it stay put. Throughout the day, mist with a finishing spray to refresh and protect.
Patches
Bring on-the-go tools like translucent hydrocolloid patches to cover any triggering bumps. We include a sheet of #PickingMe Patches in our Fiddle Packs. Visit pickingme.org/shop.
Sweating
Waterproof Products
Choose waterproof eye and eyebrow items to avoid smudging throughout the day. Makeup Forever's Full Cover Concealer is also a great option when covering blemishes or picked areas.
Facial Mist
If hand-to-skin contact on your face is triggering, try moisturizing and hydrating with a light facial mist. Our pick is the refreshing Mario Badescu Facial Spray with Aloe Herbs and Rose Water.
Cleansing Towelettes
If you sweat off your makeup and are in need of a quick cleanse before reapplying, carry travel-sized makeup wipes like Dickenson's Single Packet Witch Hazel towelettes or Neutrogena Single Makeup Wipes. For triggering oily areas, bring a couple oil sheets to dab on your skin. At the end of the day, remove makeup with wipes to avoid hand-to-skin contact and looking in the mirror.
Acceptance
Do What's Comfortable
It's OK to wear makeup in the summer and it's OK to go makeup free. If you find yourself unable to leave the house without makeup and want to switch it up, challenge yourself to do one small public task makeup free and see how it feels.
View Makeup as a Tool
Instead of only framing makeup as a way to hide scars or blemishes, think of it as a tool for your creative expression. Try experimenting with new looks. Even if they're not something you'd do on a daily basis, it's a fun exercise to view makeup as something other than just a cover up.
Self Love
Remember that you are beautiful, no matter how many scars, scabs or perceived imperfections you may have. If you're feeling low, check the #PickingMe tag to see other's sharing and owning their Skin Picking experiences. You're not alone.