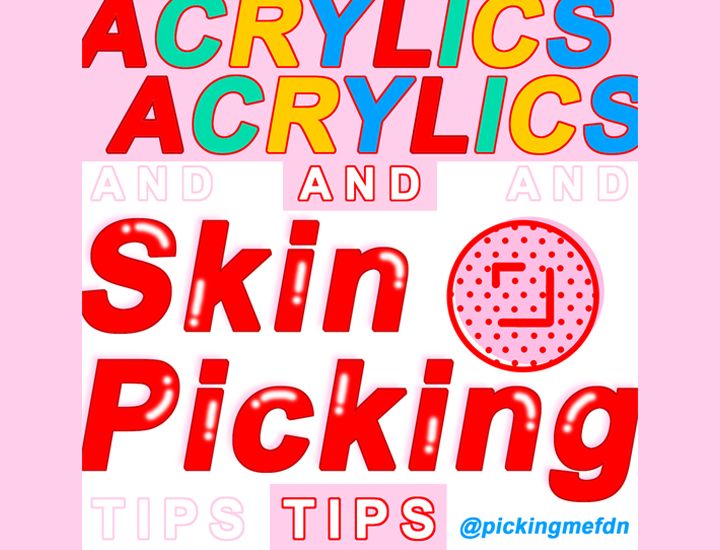 Let's talk about acrylics! Whether applied at the nail salon or at home, so many of you have talked about the effectiveness of acrylic nails in deterring Skin Picking Disorder (including our very own CEO) and we'd like to share some of our tips when trying out this strategy!
Nail Salon Tips
Find a Place You're Comfortable 
If you plan to share that you're getting acrylics for Skin Picking choose a salon you're comfortable at, and a technician you can build a rapport with.
Come Prepared with Info
Visit pickingme.org to download or share info on Skin Picking Disorder to reference.
Have Specific Instructions
Explain that you're interested in a full set of acrylic nails, and you'd like them cut short, filed round and layered thick. Ask them to make the nails as blunt as possible, which makes it harder to get anything under them.
Prep for Maintenance
If you continue wearing them, you can ask for a fill after around 3 weeks when they start to grow.
At-home Acrylics
Choose a Brand
For a cheaper option, you can also try fake nails at home. Drugstores or online shops usually have a selection of different nails you can choose from.
Apply
At-home nail application is similar to our salon tips. Make sure to lay nails out in order by size when applying and use A LOT of glue. Remember to file them blunt and short.
Keep Glue Handy
Carry your nail glue with you, just in case one of the fake nails decides to pop off.
Strengthen
In-between acrylic applications, strengthen your nails with nail oil, we enjoy CND's Solar Oil.
Acrylic Benefits
They Can Make it Harder to Pick
So many of our followers and our own CEO have shared the effectiveness of acrylics in reducing picking. By having these thick barriers, the space between the nail and finger is small, making it much harder to manipulate skin and pick.
They Create Awareness
When you scan your body to pick, you become desensitized to your fingers. Acrylics create a foreign sensation on skin and allow you more awareness of where your fingers are on your body.
Take Breaks for Effectiveness
We can get used to acrylics, so it's important to take breaks. "I've still found a way to pick with them on, so I take them off for a little bit and let my nail beds breath and then try them again as blockers." -#PickingMe CEO Lauren McKeaney
What have you experiences been with Skin Picking and acrylics? We'd love to hear your thoughts!

DM us @pickingmefdn and visit pickingme.org/managementtips for more Skin Picking management strategies.