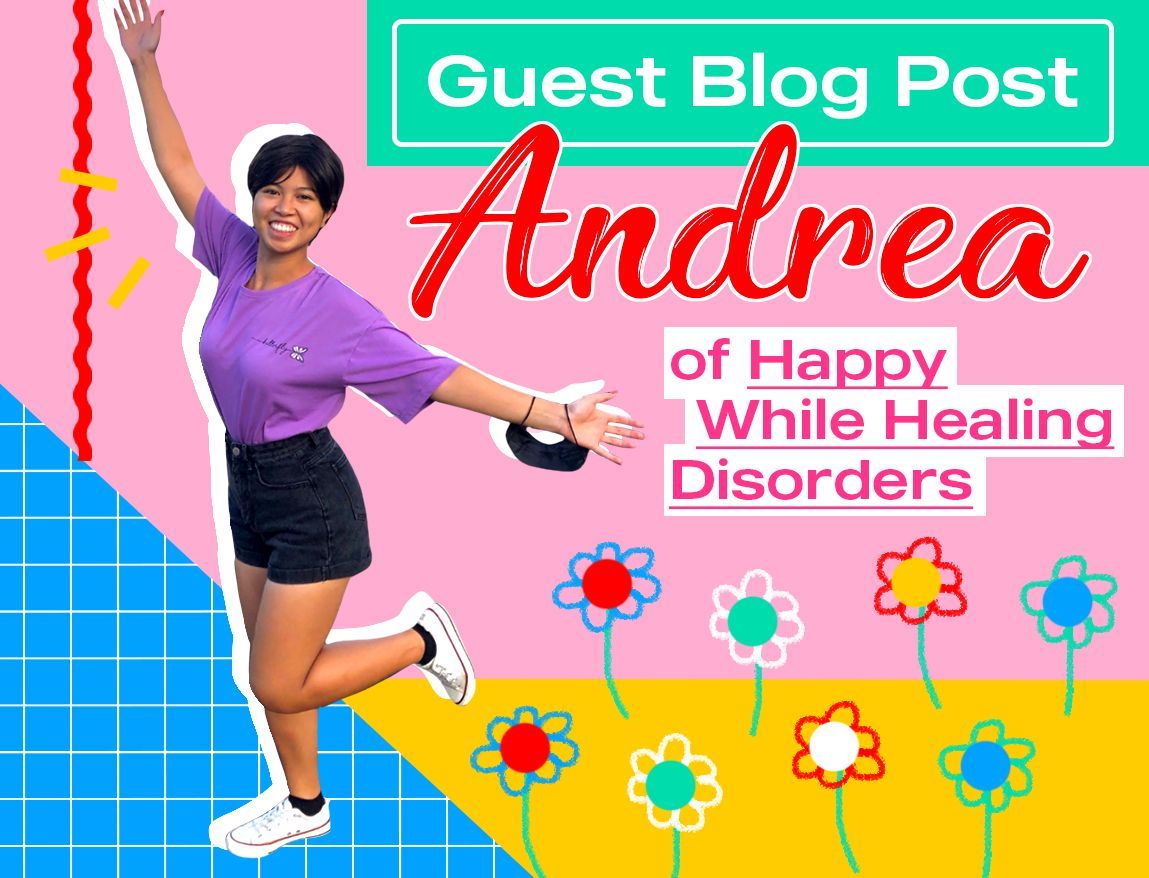 Don't know how to heal skin picking wounds on face? Andrea, the BFRB blogger behind Happy While Healing Disorders, is here to help you develop a simple skin care routine for girls struggling with Dermatillomania.
For all the girls with Dermatillomania, I know how frustrating and annoying skin picking can be. 
For starters, you struggle with a compulsive behavior that most people don't even know about. 
And on top of that, you have to deal with (bloody) skin picking wounds and scarring. In a society that glamorizes clear skin, this can make you insecure and become socially distant.
I'm Andrea and I'm here to teach you how to heal skin picking wounds on face. 
Here is everything I wish I knew when I was a teenager picking at hormonal acne and scabs! After reading this post, you'll know which skin care ingredients repair your skin's moisture barrier and help uneven skin tone. 
But most importantly, you'll understand which skin care products are effective based on their ingredient list, rather than skin care companies' false marketing and claims. 
So, if you want to be more skin care savvy and know how to heal Dermatillomania wounds, keep reading!
Here's what I'll be covering:
Why is skin care important for Dermatillomania?
How do I heal my face from picking too much skin?
Is Vaseline good for healing wounds?
How to reduce redness after picking on face? 
How to heal scars on face from picking? 
Here's a quick outline so you won't forget the goodies in this post! It's an awesome cheat sheet to help you remember all the things we'll be covering in the post.

HOW TO HEAL SKIN PICKING WOUNDS ON FACE:
Why is skin care important for Dermatillomania?
Skin care is fabulous for girls and women struggling with Dermatillomania because keeping your skin SAFE is critical. 
Constant skin picking on your face with unclean hands can lead to open wounds, infection, and inflammation. So, the sooner you target healing wounds and fading scars, the better your skin will feel and look. 
But also, skin care is self care! Taking 5-10 minutes for your skin care routine in the morning and night is a great way to practice self-love and de-stress. Sometimes, the most exciting part of my day is my skin care routine. LOL.
How do I heal my face from picking too much skin?
Dermatillomania can do a lot of damage to your skin. It can cause bleeding, inflammation, and a compromised skin barrier.
According to this study, skin picking can also lead to more serious medical conditions, such as infections, sores, and lesions. That's why it's important to have a great skin care routine going so you can help repair your skin barrier and prevent infection. 
Skin care products to help repair your skin barrier and heal wounds quicker are
Gentle cleanser - washes off germs and bacteria  
Moisturizer with active ingredients - helps lock in moisture 
Sunscreen - protects from sun damage
Some of the best ingredients to help restore your skin barrier are colloidal oats, ceramides, and centella asiatica. They are all super soothing and calming to the skin. 
Now, let's talk about each one of these ingredients!
Colloidal Oatmeal 
Colloidal oat is an FDA-approved "skin protectant". According to this study published by the Journal of Drugs in Dermatology, it can also help with anti-inflammation, itchiness, and dry skin. So, if you have severely dry skin, then this is the ingredient for you! 
Ceramides
Ceramides make up our skin barrier and it has been found that applying it on top of the skin is beneficial too. This paper by the Journal of Dermatological Science says it can also help with repairing the skin barrier, anti-inflammation, and speed up your skin's immune response! Because you might have open wounds on your face, I recommend staying away from fragranced products. Although it might smell amazing, fragrance can cause irritation and cause your wounds to sting! And lots of companies offer fragrance-free alternatives to help with sensitive skin types!
We'll talk about the importance of sunscreen later in this post, so keep reading to find out more! 
Is Vaseline good for healing wounds?
Another step on how to heal skin picking wounds on face you can do is to apply a spot treatment. 
And Vaseline is an oldie but a goodie. The American Academy of Dermatology actually states that petroleum jelly helps prevent the wound from becoming a scab and heal quicker. 
Vaseline is an occlusive which means they act as a protective layer sitting on top of your skin to prevent water loss. Super cool and affordable wound treatment! 
Picking Me Foundation CEO, Lauren McKeaney, offers to "source out Vaseline in stick form, so you may rub on your spots without touching your skin, thus being less triggered to pick."
How to reduce redness after picking on face?
Skin picking can lead to a lot of redness from inflammation and irritation. So, if you want to kiss redness goodbye, look for ingredients, such as niacinamide and colloidal oatmeal!
A journal by the Journal of Cosmetic Dermatology said all of this about niacinamide:
Reduces redness
Fades hyperpigmentation
Restores skin barrier function
Great for acne-prone skin
Colloidal oatmeal is another awesome ingredient that can also calm the redness down. So, looking for serums or moisturizers with niacinamide or colloidal oatmeal will be the way to go for reducing redness.
How to heal scars on face from picking? 
Having a simple skin care routine can help fade the appearance AND development of scars. 
The best ingredients to look for to remove scars and hyperpigmentation are niacinamide, Vitamin C, and sunscreen! 
We talked about niacinamide already, so let's talk about the others!
Vitamin C
Vitamin C is a powerful antioxidant and according to a study by the Journal of Clinical and Aesthetic Dermatology, it helps to reduce pigmentation, protect against sun damage, and assist collagen production. However, some Vitamin C can sting because of how potent it is, so I recommend having a Vitamin C in a moisturizer if you're starting out!
Sunscreen
Sunscreen is a must! If you were to use any skin care product, it would be sunscreen. Aside from its benefits of protecting us against sun damage and skin cancer, sunscreen has been proven to help hyperpigmentation from becoming worse. 
I recommend looking for mineral sunscreens that are broad-spectrum SPF 30+. Mineral sunscreens are better for sensitive skin. And if you struggle with skin picking wounds on your face, then these won't sting those either! 
It's important to mention there have been MASSIVE improvements with the look and feel of sunscreens. There are mineral sunscreens that leave NO white cast and are unscented!
Lauren recommends "sunscreen from Supergoop such as their numeral spray or ReSetting Spray for face with UV 40 spf and hands-off application to decrease touching your skin or sores."
Final thoughts
Phew!! That was quite a handful! 
Let's review what we learned on how to heal skin picking wounds on face:
Use a fragrance-free gentle cleanser to help remove dirt and germs
Find a moisturizer that has active ingredients such as colloidal oatmeal, ceramides, niacinamide, or Vitamin C. 
Wear sunscreen daily to protect your skin and prevent the darkening of existing scars. 
You can also add a serum after your cleanser (and before your moisturizer) that has any of the four active ingredients if you couldn't find it in a moisturizer! 
Liked this post? You can read more of Andrea's posts on her blog, like this one: 4 Must-Have Excoriation Products on How to Heal Scabs on Face (fan favorite!). As someone who struggled with dermatillomania and trichotillomania, she gets it! In her journey, she learned it's important to be happy while healing, and not just after healing. 
That's why her blog is dedicated to helping girls with body-focused repetitive behaviors understand their behavior, find fun treatments, and thrive in their own skin. Anyone's healing journey can start right now, and she can help!
DISCLAIMER: Andrea is not an aesthetician or a dermatologist. The information here is for educational purposes, and not to diagnose or treat. Please reach out to your doctor to discuss questions regarding your skin.