Dermatillomania can be hard to talk about. Let's draw about it.
This is a rolling collection of art by individuals who have suffered with Skin Picking Disorder. 
Acting as a visual portrayal of their journey, these drawings help other sufferers understand they're not alone.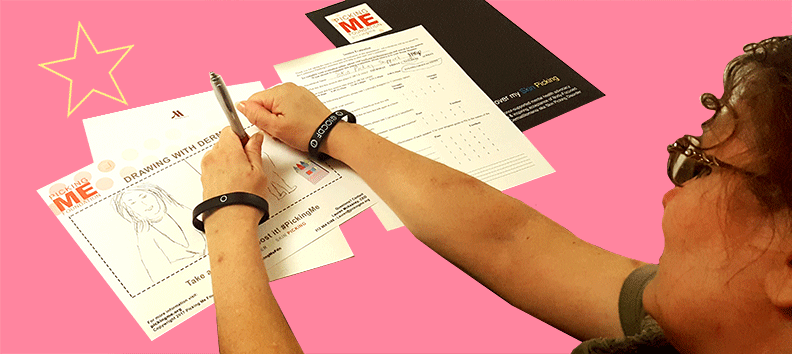 @pintsizeduh, Princess Agyeman, 16, USA

Esther A., 14, USA

This piece is simply called "Dermatillomaniac." After not picking for a couple days, I was in an anxious and uncomfortable situation and was trying to drag my nails against smooth skin as to not damage my skin before finally giving in. When I finally got alone, I cried for a while, before calling my lovely uncle who implored me to draw or find an outlet. I sketched it out, and painted for 2 and a half hours last night, and then 4 more hours this morning. I tried my hardest to capture the anguish and despair I was feeling in that moment.

Esther A., 14, USA

This painting was called Cotton Candy Cognizance and it was the first canvas I painted at the beginning of spring break, and quarantine. It was about my stress and insecurities, somewhat regarding dermatillomania, OCD and the anxiety I feel around my age group. Being tall, black, and having spots cover my face and speckle my arms and legs, I find my self constantly self conscious and wanted to make a piece that reflected that.

@Myrecoverydoodles, Ella Yorke, 18, Great Britain

Carelys Piñero Guzmán, 19, Puerto Rico

Taylor Stuck, 20, New York

Chance Horner, 17, Florida

I've had derma since I was a kid, probably 6 or 7. It started with just picking scabs and slowly spiraled from there. Now over a decade later at almost 18 I still struggle with derma daily but I hope one day it won't be so bad.

@Xxlunakittyxx, Arianna Cupelli, 20, Illinois

My art was apart of a 3 piece set of mental disorders that I suffer with. I've had dermatillomania since I was 5 and have struggled with it. I didn't find out what I had till 2019 and by reading, listening to people's stories, and educating myself, I have learned to forgive myself and understand its apart of me. My goal with this piece was for people to understand the importance of the mirror and look ever so closely to all the details put in. Even the frame repeats "Pick it".