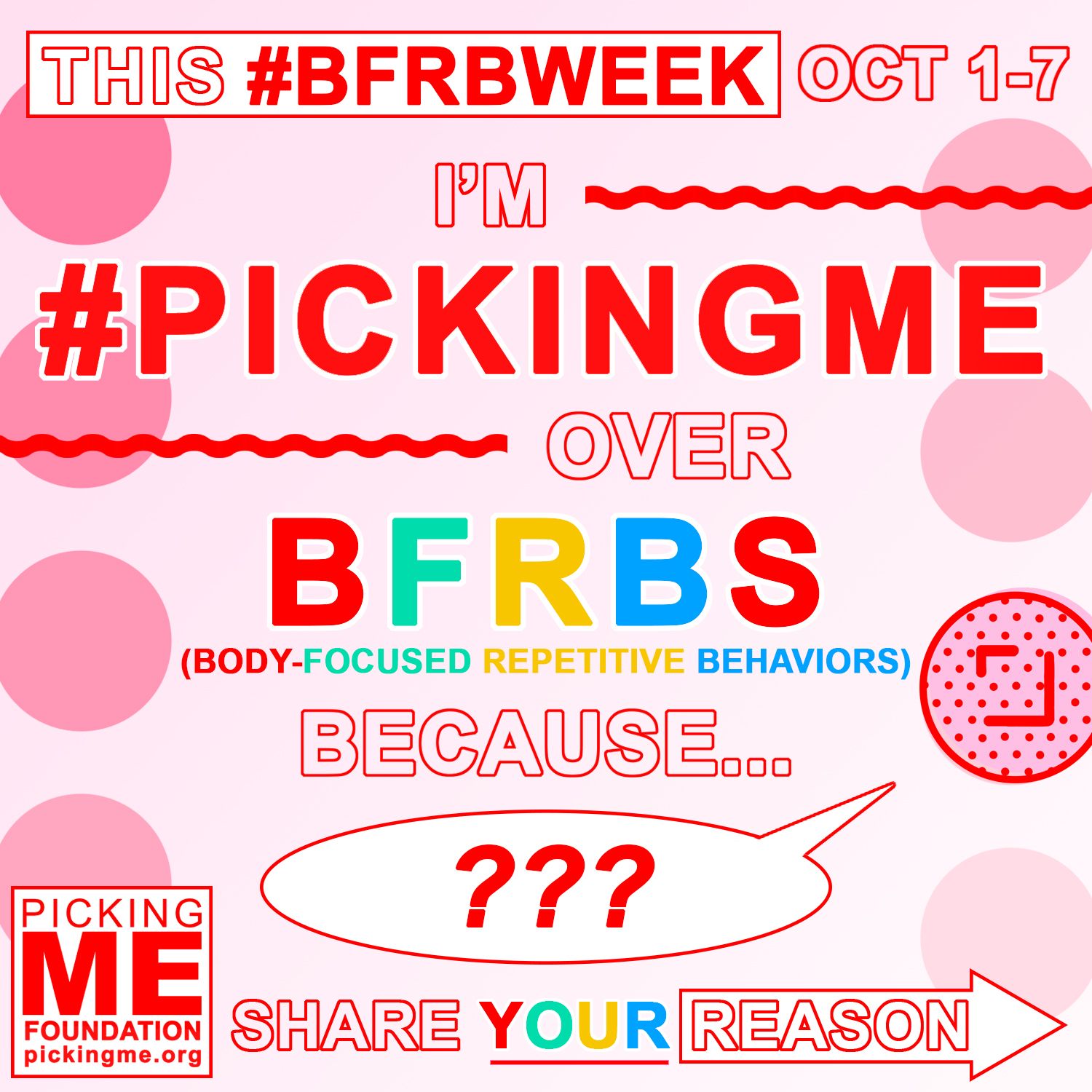 Join us OCT 1-7 as we advocate for, spread awareness and recognize those who live with or are impacted by Body-Focused Repetitive Behaviors.
This year, we encourage strugglers and supporters to take back control over these controlling disorders by finishing the sentence:
This #BFRBweek, I'm #PickingMe over BFRBs because...
How to Take Part:
1. Take a pic of yourself holding a sign saying #PickingMe or add it by using an editing app. All BFRB strugglers & advocates are welcome.
2. Write a blurb finishing the sentence "This #BFRBweek I'm #PickingMe over BFRBs because..." It can be any way you show up in or for the BFRB community, something you choose over the controlling disorders.
3. DM us your pic & blurb to @pickingmefdn or email meredith@pickingme.org your submission.
4. During #BFRBweek (OCT 1-7), we'd love you to post your submission on social media as well, along with the caption:
"I honor all the individuals living with a Body-Focused Repetitive Behaviors this week, including the 1/20 affected by Skin Picking Disorder. Only officially diagnosable since 2013, Skin Picking has been a widely misunderstood and underrepresented disorder. Picking Me Foundation @pickingmefdn is the only nonprofit dedicated to this mental illness, founded by a skin picker, for skin pickers. Help advocate for this disorder by spreading awareness and inspiring acceptance this #BFRBweek. Here's to #PickingMe over BFRBs!"
We can't wait to see your submissions and feature your advocacy this upcoming #BFRBweek!
Thank you for
Helping Heal Our Future.