Dermatillomania can be hard to talk about. Let's draw about it.
This is a rolling collection of art by individuals who have suffered with Skin Picking Disorder. 
Acting as a visual portrayal of their journey, these drawings help other sufferers understand they're not alone.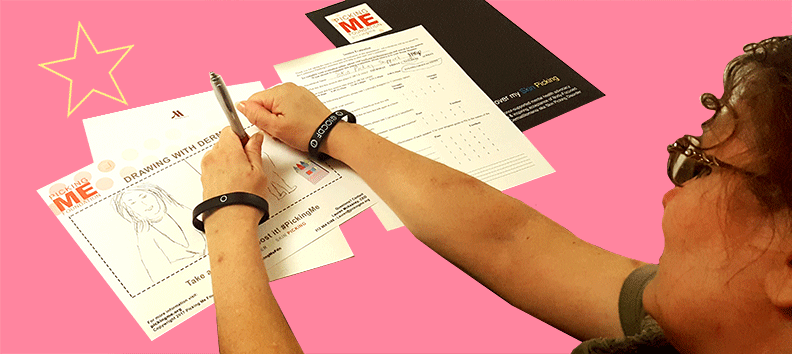 @areyoutheregoditsmemarlee, Isabel Gordon, 23, Catonsville, MD, 2018
"Sketch in pen. Grateful to have found this resource and community!"

@_maya_creates, Maya P., 19, NY
"I have scars and hyperpigmentation all over my body, but the worst and the bloodiest is on my backside. For years I have been petrified to show anyone even just a glimpse of my back. I have cancelled plans to go to the beach or shopping with friends because I was desperate not to let my secret out. I have struggled with dermatillomania since before I can remember, but now I'm finally #pickingme. I hope this piece of art will help me regain confidence, and I hope it is the first step towards allowing the world to see what's truly me."

@systematic_violence, Scott Goodrich, 16, Winchester, VA, 2021 "A rough sketch of me looking in the mirror and trying not to pick at one of my facial scabs.

Knowing that there is a whole community that can relate to me is incredible. Finding the Picking Me Foundation made me realize I wasn't alone in this disorder."

Camila Verdugo, 27, Chile, 2020 "I wear make up in order to cover up most of the scars but there are some of them which are simply too hard to even try. Going to the beach doesn't sound like fun.

I learned about this foundation by the youtube video while I was searching for ways to cope with my dermatillomania. I've been going through the websites resources, useful so far!"

@leledelbart, Leticia Delboux, 18, Brazil, 2021
"I decided to draw this after I took a picture of my body (since most of my scars reside in the back of my stomach). I felt sick when I saw the picture and felt really bad... Since I've been trying lots of things to stop picking, maybe drawing could be a solution. So here I am."

TW: @luzIaisasleep, Lucía, 20, Barcelona

@nevecariad, Neve Spencer Möller, 20, Britain. Created in 2020
"These are a collection of works I have created over 2020, in trying to unpick my disorder and raise awareness. There are some figurative pieces as well as more abstract rubbings of what the disorder feels like to me - I attempt to get this across to those who don't understand, as well as dismantle certain toxic attitudes towards image within the media.
I think it's a great foundation and has helped and encouraged me greatly - I think it's amazing giving picking sufferers a platform to showcase artwork based around the subject also!"