Dermatillomania can be hard to talk about. Let's draw about it.
This is a rolling collection of art by individuals who have suffered with Skin Picking Disorder. 
Acting as a visual portrayal of their journey, these drawings help other sufferers understand they're not alone.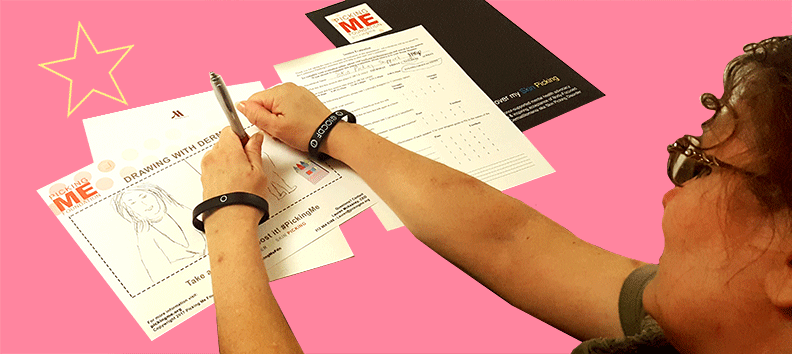 @alexaacollettee, Alexa Collette, Canada

@art.jali, Anjali Karustis, 22, Chester Springs, PA
A piece about how having bfrbs looks like to me. Done with gouache paint, colored pencil, and pastel on illustration board.

@moodyillustrations, Daniel Moody, 29, Britain
A series of works I'm working on linked with anxiety & depression and the effects it has on the body as much as the mind. Linked with current symptoms I've personally been though or seen in others as well.


@noelsquareroot, Noel Root, 19, Oakdale, NY

@ericclaremiller, Eric Miler, 22, St. Louis, MO

The cosmetic result of my many years of dermatillomania with testosterone-induced body acne: the mottled surfaces of my arms, shoulders, and chest. Even though my acne has calmed down, the urge to pick at the uneven skin left behind is still going strong. I'm not ashamed of my sleeves of little round scars, but it would be nice to be able to quit adding to the collection.

@4amcreativity, Victoria Seibel, 16, Germany

I drew this piece because I sometimes get angry at my hands for picking at my skin uncontrollably. To remind myself that my hands can do much more than that, I draw and paint. Seeing my hands create art instead of picking at my skin makes me happy and reminds of how much i love them.

@itseemsyoucaughtme, Alex Kovacs, 21, Austin, TX

I drew this character when I was dealing with some feelings of loneliness over being covered with bandaids and scabs. I like depicting cartoon characters with the same illness that I have because it makes me feel like less of an outcast, and a little more proud of who I am.