Dermatillomania can be hard to talk about. Let's draw about it.
This is a growing collection of art by individuals who have suffered with Skin Picking Disorder. 
Acting as a visual portrayal of their journey, these drawings help other sufferers understand they're not alone.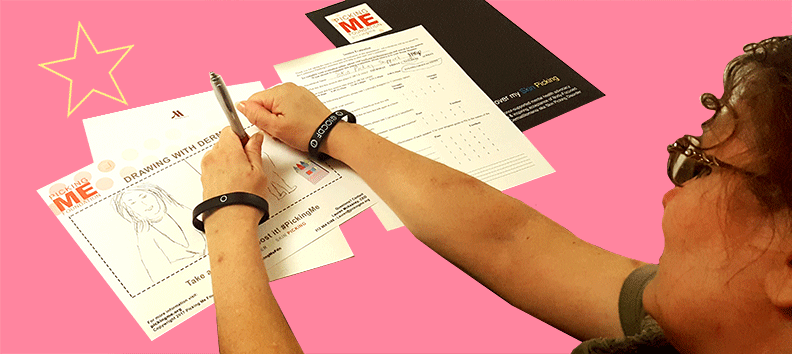 @frida_459, Frida, 22, Germany

@someone_like_you_who_cares, Danielle Strader, 19, New York

@someone_like_you_who_cares, Danielle Strader, 19, New York

@xeniamtzllanas, Xènia Martínez Llanas, 28, Barcelona, Spain Series of seven self-portraits that create a process of de-construction of the face by a progressive auto-degradation of the skin.

I take my disorder as a base for this artwork an i drive it to its maximum expression, making my face disappear by tearing the skin little by little until only the structure that holds it is left.

@lousdump, Lou Weinstein, 21, Rutland, VT
As someone who has dealt with an excoriation disorder in silence from a very young age, I finally feel empowered to share my experience and connect with others through visual communication. Thank you for all that you do for those struggling to accept themselves and their skin as well as for bringing about awareness for skin-picking BFRBS like dermatillomania <3

@childishsanchino__, Amanda

@lejujubee, Julia, 20, Iowa "This drawing is representative of my main focus spots through the hours upon hours of picking, and my home bathroom where the worst episodes unfold.

It's already scary having something so misunderstood and severely under-represented. So finding this organization has encouraged me to educate those around me and learn more about myself. It gives me hope that I'm not alone in this and that there is a chance for me to someday break free. I have been living through endless years of picking and no support until now. Thank you from the bottom of my heart."

@havaliebowitz / @nostalgiastitch / havaliebowitz.com
Hava Liebowitz, 22, New Orleans, LA, 2019 "This is a mixed media oil painting I made a couple years ago called Mad Woman: Self Portrait in Shades of Purple. It was the first piece of art in which I addressed dermatillomania. I really wanted to call attention to this disorder and encourage people to treat it rather than hide it. College was a very difficult time for me and I dealt with a lot of the anxiety by picking at my back. I still can't say I'm recovered from dermatillomania but I'm better off than when I made this painting.

Seeing other lovely people with full lives who are struggling with this disorder has given me a lot of perspective. I have to remind myself that I'm allowed to participate in the world even when I don't look or feel the way I would like to. This instagram helps with that a lot."