Dermatillomania can be hard to talk about. Let's draw about it.
This is a growing collection of art by individuals who have suffered with Skin Picking Disorder. 
Acting as a visual portrayal of their journey, these drawings help other sufferers understand they're not alone.
(We are currently accepting submissions but have a delay in displaying them. Please stay tuned)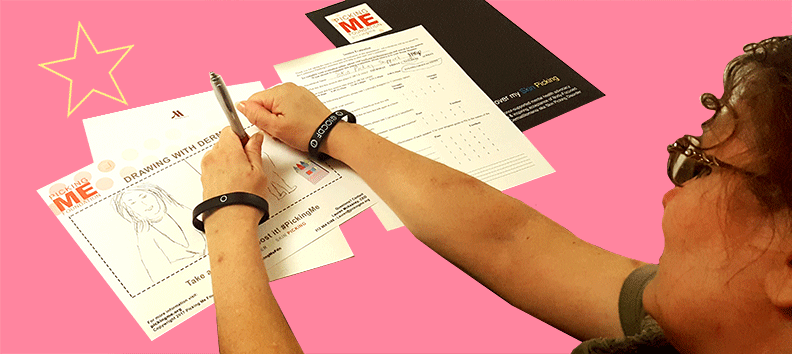 Keisha VanLeeuwen, 17, Canada
"Dealing with hormonal acne with BFRB is a nightmare!!! "

@emily.quinny, Emily Quinn, 21, WI, May 2023

Keisha VanLeeuwen, 17, Canada
"Hey, PickingMe. I wanted to capture an image of struggling with skin picking for people, and in the end, I chose to draw the girl to look like me. I have struggled with picking my skin for years, and I don't think I've had a wound-free face since the 6th grade. I've never been officially told that I have dermatillomania, but I think I do. The original of this piece did not have the sparkles on the face, but I thought it would be nice to show that despite my scabs, I can still look beautiful. Recently I've been trying very hard to clear my face, and the PickingMe posts and community has helped me so much to regain my confidence and love of myself. "

Lainie Davis, 20, NC, @art.u.there
Don't
"A bit of a self-portrait "

Natalie H., 35, CA, 10/10/22
"I wish they could see the real me..."

Luce Hua, 31, Canada, 8/31/22

"Digital collage of my own face

'sk(in): the skin im in'

It feels validating to hear that I'm not just 'lacking willpower or discipline' when it comes to picking; i never used to care much about my scars, but now that it has moved onto my face, and I have a new partner I find myself very self conscious- especially about the scars on my butt. its an area that is usually hidden, so I unconsciously gravitate towards it, but it makes intimacy a little disheartening and triggering for me after the fact.

it is fun and informative to see all the fidget finds, and inspiring to hear and visualize the healing journey of others in this community.

Jolie Weilhamer, 19, Greenwood, IN

@txt2art, Ryan Thomas, 32, Las Vegas, NV, 4/20/22 "This artwork was created 100% using code which consists of a neural network, text prompts and diffusion. Since I have no artistic talent I use Disco Diffusion to create all my images and wanted to get a sense of how a computer program handled a complex concept like a mental illness. Please check out my other artwork on my Instagram and give me a follow! Thanks for the opportunity to share my work.

I've been following the Picking Me Foundation ever since I discovered I had Dermatillomania about 7 years ago after picking since I was about 8-10. I truly love and appreciate the foundation for what they are doing to raise awareness for the people out there in the community."